Review: HTC S720 from Telus Mobility
I got my S720 from Telus yesterday. It is the first Windows Mobile 6 unit officially sold in Canada. It is a solid device, with a candy bar phone feel, with a slide out keyboard.
First brief specs:
* 1X-EVDO (Rev A capable*) dual band, all-digital phone
* Handsfree speakerphone with voice activated dialling
* 65k TFT High resolution display
* Silent vibrating alert and MP3 or Polyphonic or WAV ringtones
* Microsoft Windows Mobile 6 (Standard Edition)
* Laptop Internet access through your smartphone – use the S720 as a wireless modem for your laptop via USB modem
* Supports Microsoft Word, Excel, and PowerPoint documents
* MP3 and Video player with Windows Mobile Media Player
* Expandable memory (microSD)
* 2 megapixel camera with 2x digital zoom and video capture
* Built in Bluetooth™ Wireless Technology for hand-free headset, stereo headset, car kit, and data transfer
* Qualcomm MSM7500, 400 MHz
* 64MB non-volatile memory (128 MB ROM)
It has a decent size as well:
* 103.5 (L) x 51 (W) x 19.2 (T) mm
* 120 grams
You can see how it looks beside some other Pocket PC and Smartphones: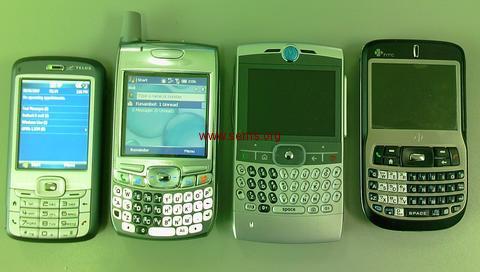 (left to right: S720, Treo 700wx, Motorola Q and HTC S621)
And here is the thickness comparison: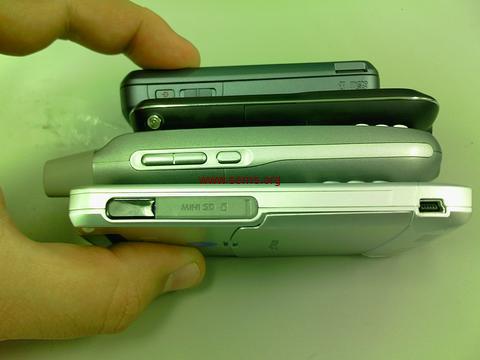 The unit, as being a Smartphone, has no touchscreen. However, with the unit being small, you can easily operate it with a single hand. The T9 input at the front comes very handy, for example to type a quick email, or run an app. But when you need a full keyboard, slide it out, and voila: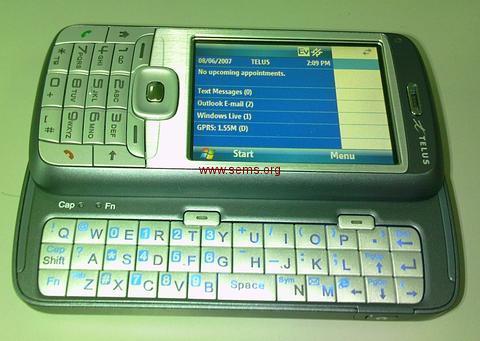 S720 comes loaded with Windows Mobile 6 Standard Edition and its goodies, such as Windows Live, Exchange 2007 features supported in Pocket Outlook, such as HTML emails and server search (very handy). Also Word, Excel and Powerpoint are there, with Word and Excel having capability to edit documents (to create a new doc, use a simple trick of creating an empty word and excel document on your desktop and copy them to your S720). Windows Media Player is also standart fare and works nicely.
My first impression of the unit was that it felt so small. It made me think like, was S621 a better choice. Well, they have their pros and cons, but here is what made S720 a keeper, compared to S621.
1. More available memory – After startup, you have around 25Mb, compared to 18Mb, to run your apps. After a while, the S621 tends to slow down, as the memory hog apps don't release it properly. A quick solution is to run Oxios CloseApps regularly, but it becomes a chore after a while.
2. High speed – S720 supports EVDO, whereas S621 is EDGE only. While you can live with EDGE speeds, the EVDO speeds make it so much better. I installed the VOIP cab files from WM6 Professional Edition (ie. the Pocket PC version) and you can make VOIP calls over EVDO fine. On S621, you'd have to use Wi-fi.
3. I experienced more lockups on S621 then S720. Of course, many of you won't be running as many different apps as I am running for different purposes, but still it is worth to note it.
4. CPU speed – The cpu speed is much better on S720. (Their clock speed is 400 vs 200, but they are not using the same chip manufacturer, so you can't say it is twice the speed, but in day to day use, you feel the speed difference, like when you are listening to music and reading emails at the same time)
Also, I measured the screen sizes of both units and they are actually same, just different orientation:
Two cons for S720 for me are lacking wifi (not a biggie, but some might prefer it) and unable to run Blackberry Connect (I wonder if Telus will start to support it). Moving on…
The both keyboards illuminate nicely, so it works well in the dark: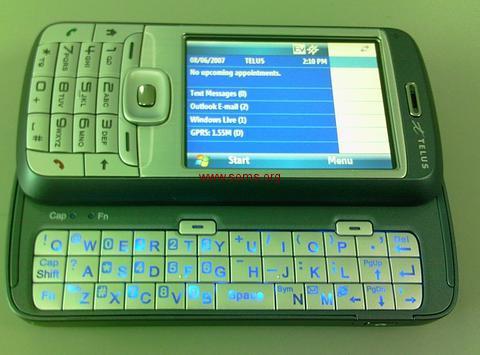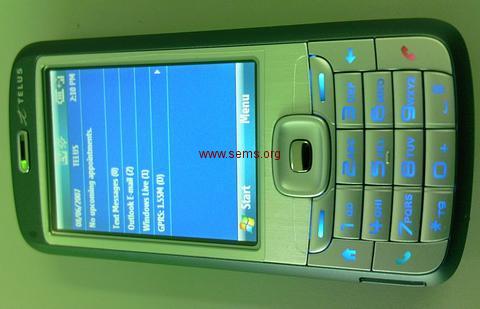 If you are planning to get you a S720, or any Windows Mobile Smartphone for that matter, I'd highly recommend two apps:
1. Right Menu – http://www.mycnknow.com/rightmenuen.htm
This customizes your right soft key on home screen, allowing you to quickly run many apps, or reset device, copy/paste, etc.
2. Automatic Keylock – http://maniac.fschreiner.de/
This nice utility keylocks the unit automatically after a certain time out. Very handy, if you forget to lock the keys when you place the unit in its case, preventing accidental calls, etc.
While the S720 comes with a horizontal case, it is a tight fit. Eventually, it relaxes a bit, but still for the first couple of days, make sure your keypad is locked (keep pressing End key will lock it, or use Automatic Keylock). I found the Blackberry 71xx cases works nicely with the unit as well.
So, before I finish this mini review, here is some more pics for your pleasure.
Cheers,
Sems