powershell 'get-printer | format-table' Run this via cmd line… Alternatively, run it in powershell as get-printer | format-table Sample output looks like: Name ComputerName Type DriverName PortName Shared Publishe d ---- ------------ ---- ---------- -------- ------ -------- OneNote for Windows 10 Local ...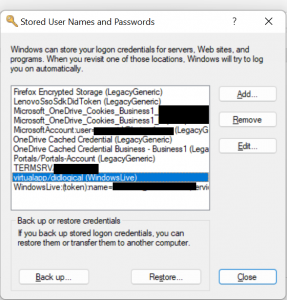 I always knew, you can see your cached credentials in Control Panel - Credential Manager. However, I wasn't aware you can actually export/import them. The command is: rundll32.exe keymgr.dll,KRShowKeyMgr You can simply hit Windows and R keys, ...
I needed to check software installs on multiple machines. One thing I found was to utilize WMI (Windows Management Instrumentation). The command is simple: wmic product where 'name like '%%Office%%'' get name Above searches the installed programs ...
Deleting folders using wildcards When doing manual/batch cleanups, I ran into an issue. The rmdir / rd command alone doesn't support wildcard characters (that is, * and ?). However, I found a workaround that uses a ...
I love automation, quick scripts and these are fitting the bill. Considering Exchange 2013 has bazillion services, if you need to stop them quickly and/or disable them, the scripts come handy. Open PowerShell using Run as Administrator and then: ...
There are times I have needed to adjust the safe senders list of a user on Office 365/Microsoft 365. If you are the administrator of the tenant, simply fire up Powershell, then: $Credentials = Get-Credential $Session = ...
Sometimes it comes very handy to do tasks via command prompt, especially when you are dealing with many PCs at one time. When I setup PCs, I give them proper names, instead of usual DESKTOP-SERIAL ...
In many clients I have worked with, there is Folder Redirection setup on the server for the users. While it is extremely useful, it can have issues with permissions when trying to move them to ...
For some of my clients, sometimes I am setting up quite a few new PCs at the same time. Thanks to Microsoft all are in Pacific Time Zone. For Windows 7 and up, there is tzutil ...
I have been ignoring the site quite some time. I am intending to keep it fresh like it was before. We'll see how it goes. Between a pandemic and all other things in my life, ...