UT Starcom 6700 from Telus Mobility
Well, we are finally getting some decent Windows Mobile devices from our Canadian cellular companies. Following Bell's EVDO launch, Telus didn't wait for their initial rollout plan in Q1 2006 and released several EVDO devices. Their Sierra Wireless 580 already supported EVDO, so as soon as they flipped the switch, current 580 users started to enjoy the EVDO speeds.
And last week, they have released UTStarcom (aka Audiovox) 6700. It is a device built by the same company – HTC – who has built XDA I-III, Jam, KJam and HP 6515 to name a few. Its code name is HTC Apache and has been released earlier by Verizon and Sprint in US.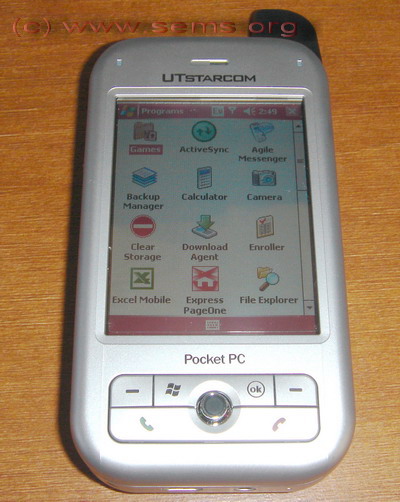 The device specifications are:
Dimensions: 4.25″ x 2.3″ x 1.0″
Weight: 6.07 oz
Processor: 416 MHz Intel® processor
Wireless: WiFi, Bluetooth, EVDO
Expansion Slot: Mini-SD
Battery Type: 1350 mAh Li-Ion Polymer
Audio Out: Speaker, 2.5mm jack
Audio In: Microphone
Resolution: 240 x 320 pixels
Keyboard: QWERTy integrated
Handwriting Recognition: Yes
Digital Camera: 1.3 megapixel integrated camera
In comparison, the recently famous HTC Wizard (aka Imate Kjam, Qtek 9100 and many other brands) has:
Weight: 5.64 oz
Dimensions: 4.25″ x 2.28″ x 0.93″
So 6700 weighs a bit heavier. But not very noticable. So far it has been around 24 hours since I got the device and haven't messed with it too much yet.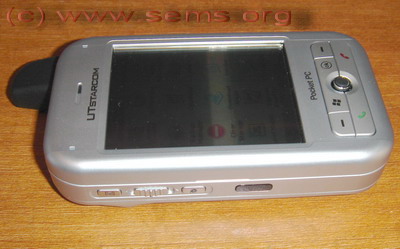 The device runs Windows Mobile 5.0, the latest from Microsoft. The processor speed difference to my Kjam (200 Mhz) is noticable and feels much better. The menus and programs respond faster.
Here is my initial thoughts:
1. There is no /Storage folder availabe to store your data (in Kjam that is around 28Mb storage space). It can be useful at times.
2. Telus has started selling these, before their sales software is updated. The store people not only have a clue about the available data plans, but also they cannot see all the available plans on their computer. For example you can actually get a plan called Email & Web 100 (http://www.telusmobility.com/on/business_solutions/email_web_100.shtml), but if you go to the store now, highest plan they can activate is 60. Interestingly both plans have "unlimited" data, but 60 is capped at 50Mb and 100 is capped at 100 Mb. The fine print says "TELUS Mobility considers usage in excess of 50 MB of data per month on this plan to be abusive, and reserves the right to charge $10/MB for any such excess usage." (this was for Email & Web 60, for 100 it says same thing with 100 MB data.). To be able to get the 100 plan, you'll have to initially get the 60 plan, then call Telus to switch to 100 (it is called "Connect MD 100" in their lingo).
3. I hate to see all these cellular companies offering high speeds, then capping you at 50 to 100MB, with EVDO speeds (500-700 Kbit/s), you'll use that up within several days, if you especially start watching streaming movies.
4. Don't even think about going to US and using your EVDO data, roaming charges is $8/MB, ouch.
5. All the usual Windows Mobile 5 (WM5 for short) is there.
6. As usual with WM5 devices, there is still no backup software.
7. Keyboard is beautiful, it is easy to use, keys are big and tactile.
8. Haven't tried much of the camera yet, but I like having a switch to turn on the macro mode to take closeup pictures (it is right around the camera lens).
9. I connected Jabra BT250v easily, but haven't messed with it yet.
10. The KJam had a feature allowing to fully turn off the device (since WM5 devices finally use persistent storage, this is a good idea, for example to store the device when not in use). So far I haven't figured it out how to do it (it may not be possible) on 6700. Keep pressing the power button only turns off the backlight.
11. The default page for IE redirects you automatically to Telus site, I wonder why they didn't put a local startup page.
12. The speeds are amazing, my initial sync with our Exchange server took less than a minute. At downtown, I saw 700 Kbits/s speed, in Whitby I saw 500 Kbits/s, which are very high compared to EDGE or 1X speeds.
13. I love the 5 way joystick, it is similar to HP 6515. Much more accurate then the rockers these late devices have.
14. I am used to having to buttons on the top, for example I program the top right one for OK/Close function, it helps a lot for a single hand no stylus operation. The 6700 have no buttons on top, but they are right around the joystick.
15. Some of the hardware buttons can be programmed into two actions, one with regular push, one with push and hold. For example one of the side buttons launches IE, if you keep pushing it, it launches Wireless manager.
16. Wifi works like a charm, I need to see if it supports G or not.
17. The price point is exciting, with a 3 yr contract, you can get it for $399, with no contracts it will be $549 (you get $50/yr of contract)
I'll add more thoughts on the device, as I use it more, but I love it so far 🙂
Here is some more pictures for you to view and compare the device: