Review: Piel Frama iPod Mini Case
Stylish, high quality protection for your iPod Mini…
Piel Frama (PF) is a leather cases manufacturer located in Spain. Each case is
hand-made across of different elaboration processes, so each one is unique. I
have used their cases with different pdas and gadgets in the past years.
One of the newest addition to their lineup of products is a iPod Mini case. The
cases come in many colors, from lime green to red, black to brown. I opted for
the lime green version.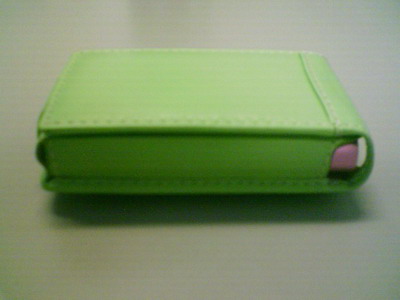 The product shipped very quickly from Spain. First thing noticable is the
presentation, it comes in a nice cardboard box, wrapped very neatly.
Package contains the case and a belt clip and some packaging material.
As soon as I took the initial pictures with my trusty Imate Jam ;), I placed my
iPod into the case. It fit snuggly. The case is the cowskin one (though PF
offers also cowskin-ostrich, cowskin-crocodile and others), it feels very nice
in your hand.
The top part of the case has a single opening for the headset/control jack. I
don't use the hold button that much, but for some users the missing hole for the
hold button might be an annoyance. Also, the hole is bare minimum, so while the
iPod controller or any headset fits fine, accessories such as Macally PodWave,
Griffin iBeam will not fit. For those, including Griffin iTrip, you'll have to
open the flip top.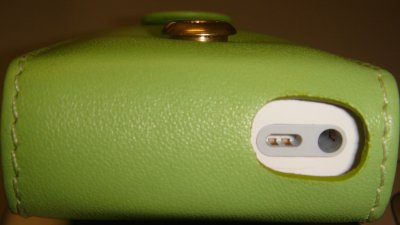 Through the bottom hole you can connect the sync cable fine. However, it will
not allow the cradle. Considering, iPod Mini comes with a sync cable by default,
this is a minor inconvinience.
The case comes with a belt clip. Though I only carry my cell phone on my belt,
this can come handy. The clip is strong and sturdy and does the job well. Also,
if you want, you can remove the belt clip knob from the back and replace it with
a little plug. The case comes with all necessary tools and the plug.
Prior to PF, I was using a iSkin, even though it had similar problems regarding
the openings on the top and bottom, since it was silicone based, it was very
easy to cut out the top portion, to get all my accessories fit. Also, I liked
the mini plastic screen protector iSkin comes with, which gives additional
protection to your screen. I wish PF included something similar. But this can be
easily solved by using a peel on screen protector, like writeshield (my fave :))
Overall, Piel Frama's case is very nice and will keep your iPod safe and sound. I highly recommend it.
Rating: 4 (out of 5)
Additional Pictures: